HARVESTING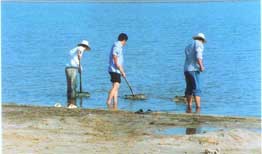 Every year Fuye Aquaculture participates in the brine shrimp harvest held annually on from April to November. Most of companies have to rent the salt ponds from salt factory in China every year. Fuye Aquaculture have rented over sixteen thousand acre salt ponds for artemia breeding and the annual production is over one hundred twenty tons (24000 cartons) Well-prepared Artemia Cysts.
Because the special location for salt ponds, the artemia cysts float at the water surface and wash ashore by wind and waves, we usually employ worker to harvest artemia by double screen dip net.
As Bohai Bay have rich alga, so Bohai Bay Artemia Cysts have high nutritive value in that and the hatching rate is very steadily, it is different with the salt lake artemia cysts on the west of China.